Did you know Volcanoes National Park is open 24 hours a day? The first time we visited the park, we arrived late at night. Not knowing anything about the park or Volcano, I confidently assured my wife that we simply needed to drive until we see glowing red magma. The night was pitch black and we had no idea how enormous the park actually was (it is really big). Not seeing anyone else on the road, we were becoming leery. Every now and then we would pass some foggy steam and noxious gasses. Where was the lava and magma? I envisioned a massive cauldron.
Alas, Volcanoes National Park is not like that (at the moment at least). The lava is flowing underground into the ocean. And the current eruption site is not easily accessible. But if you know where to look you can at least see gasses illuminated by underground lava. This photo was taken near the entrance to the Park: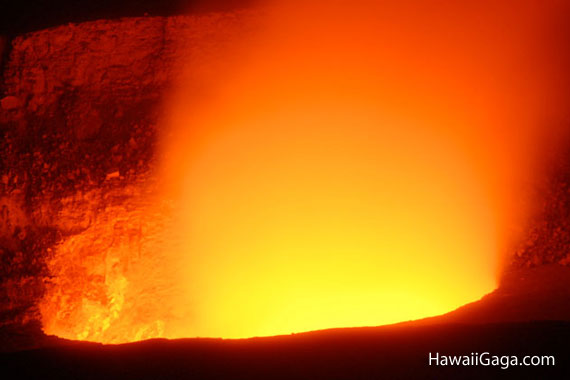 Visit this page of Kilauea Crater to see the location where the photo was taken. More information about Volcano Nationals Park can be found here.